Ages:
All the family
Under 5s
School age
Adults
Venue:
Outdoor
Cost:
Free
Description
Alice Park is a little tranquil gem on the eastern side of Bath; a wonderful place for whole families to enjoy. We are situated on the corner of the Gloucester Road and the A4, opposite the new McCarthy and Stone development. We've got eight acres of beautiful land, 6 tennis courts open to all, a family friendly playpark, community garden, boules piste, toilets and there is even some parking. Well behaved dogs (and children) are welcome off lead, and then there is the award-winning cafe.

Although the park is always open, the cafe is now on Winter Opening times, meaning we open everyday at 9:15am but now close at 4.30pm, a little later at weekends. It's cold and dark, you know. There are regular football coaching days for the under 9's, aswell as RugbyTots on Saturdays and two tennis clubs, so plenty for the young - and young at heart.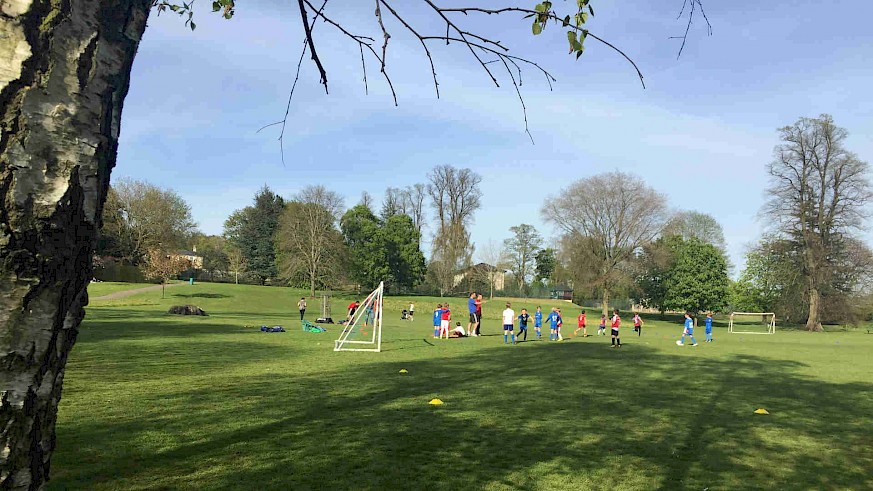 The park is open every day, and so is the cafe - apart from Christmas Day - even in the rain! We close at 4.30 in the winter, and 5.30 in the summer, weather permitting. We host many family friendly, community based events, and we would be delighted to see you here; come and visit and find out what makes Alice Park the 'hidden gem'.
There's a lot to do at Alice Park for all the family. Our facilities include:
Fenced children's playground
Full service cafe
Six tennis courts
Community garden
Quiet zone with ponds
Children's cycling track
Free car parking
Accessibility for wheelchair users
Well-kept toilets
Eight acres of beautiful green landscape
Outdoor ping pong table
Football, tennis and netball teams
Fitness classes
Youth football and rugby classes
Regular community family events
Please note that Alice Park is now run by a trust, so there will be changes and improvements - so keep coming back to see how we are doing!
Events
Alice Park hosts several events throughout the year, and we are always looking for more! If you have any ideas and would like to get involved, let us know. Don't forget, make sure you follow us on social media - 'aliceparkcafe' - to ensure you don't miss out!

We are constantly looking for help with events, so if you are an experienced event organiser, and don't particularly like having money, then get in touch. I want to bring back the Classic Car Show, a Tennis Tournament, Alice Birthday Party,, August Bank Holiday Party - but I can't do it on my own! You know where to find me!

Here's a few of the regular ones, however please make sure you contact us first to check:
3 Day Larkhall Festival (First Bank Holiday in May)
Park In The Dark - Halloween, fancy dress, Adult Disco, Laser Show and the BEST Quiet Fireworks for young children (last Saturday in October - Ticket only, tickets on sale in the cafe from August)
Easter Egg Hunt (Easter Sunday)
Julian House Big Sleep Out (first Friday night in March)
Live Music and DJ's most weekends through Summer
Always check beforehand, and follow our Facebook page for the latest information!
The Café
Originally, the cafe was the changing room for the popular cricket and football teams at Alice Park, however it became a Tea Chalet in the early 1970's. Please note - if you have actually worked at the cafe, back in the day, please please get in touch with me with your stories and anecdotes! Very keen to write a book on the park and of course the importance of the cafe!

The cafe was open periodically throughout summer, until it was revitalised in 2008 by the current owner, Tony Hickman. The 'vision' was to try and offer superb coffee and snacks, together with soulful music, free wifi and newspapers - somewhere an adult would want to go regardless of having kids. Over the next few years, the cafe developed into the hub of activity it is today.

Refitted again for 2016, the cafe now prides itself on amazing coffee and a superb range of lunches, snacks, lite bites, healthy options and a range of ice creams, including exclusive alcoholic lollies, and of course the very popular full Alice English breakfast. In 2017, Tony created the Alice Park Cafe Garden, and entered the prestigious Bath In Bloom Awards - winning three awards in the first year!

Our brand is built around our core principles of good food, great coffee, soulful music and families first. We have very strong beliefs and are keen to show everyone exactly what we stand for. We compliment this with a full and comprehensive program of family events throughout the year.

Our staff are all expertly trained and very approachable with any questions, queries, comments or compliments you may have. And if there's something you need on the menu, we will always do our best to provide it, we look forward to seeing you soon!
Open hours
| | |
| --- | --- |
| Monday | Open |
| Tuesday | Open |
| Wednesday | Open |
| Thursday | Open |
| Friday | Open |
| Saturday | Open |
| Sunday | Open |